Just a few reasons to consider Collard Greens!
Contribute to blood-clotting, and may help maintain a healthy cardiovascular system – due to high levels of Vitamin K.
Great for bone health, as they provide a good source of non-dairy calcium.
Help protect against cancer, cataracts and heart disease through the antioxidant beta-carotene.
Folate (a B vitamin) content can help prevent birth defects and anemia, and assist cell growth and function.
Shown to lead to lower cholesterol levels.
Digestive health may benefit from the fiber content of Collards – which also aids in fighting against Helicobacter pylori.
Contains the phytonutrients lutein, lipoic acid, glucobrassicin, glucoraphanin, gluconasturtiian, glucotropaeolin, caffeic acid, ferulic acid, quercetin, and kaempferol.
Nutrient Profile – Macronutrients:
Nutrient Profile – Micronutrients:
Collard Greens growing in a California field: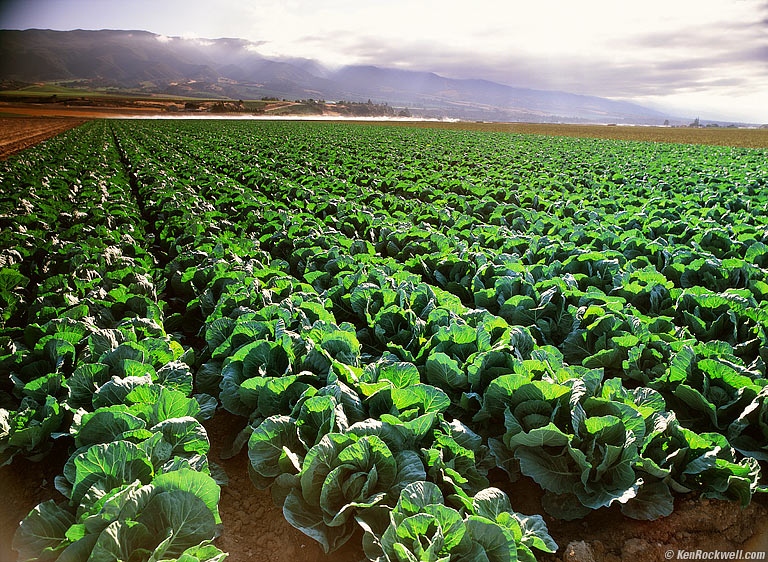 How to prepare and cook Collards:
Collards are in season between January and April, but can also likely be found year-round in supermarkets.
Choose leaves that are dark green, and avoid limp and yellowish leaves.  Smaller leaves are better.
To keep fresh before cooking, store unwashed leaves in refrigerator's crisper drawer.
Rinse thoroughly before cooking.
Several links for recipe options may be found here: http://www.marthastewart.com/286291/collard-greens-recipes/@center/1009854/winter-produce#258351
Another great recipe I found (for Stuffed Collards Greens) at the New York Times website. (See link below)
Sources:
1st image credit:  https://www.pittsburghfoodbank.org/blog/collards/
Health benefits info: http://www.healwithfood.org/superfoods/collard-greens-health-benefits.php
http://www.livestrong.com/article/273801-benefits-of-juicing-collard-greens/
http://www.fullcircle.com/goodfoodlife/2012/05/24/everything-you-need-to-know-about-collard-greens/
http://www.whfoods.com/genpage.php?tname=foodspice&dbid=138
http://health.howstuffworks.com/wellness/food-nutrition/natural-foods/natural-weight-loss-food-collard-greens-ga.htm
Nutrient profile: http://nutritiondata.self.com/facts/vegetables-and-vegetable-products/2410/2
2nd image credit: http://www.kenrockwell.com/trips/2009-06-monterey/
3rd image credit: http://www.marthastewart.com/286291/collard-greens-recipes/@center/1009854/winter-produce#196548
4th image credit:  http://www.nytimes.com/2010/01/01/health/nutrition/01recipehealth.html?_r=0