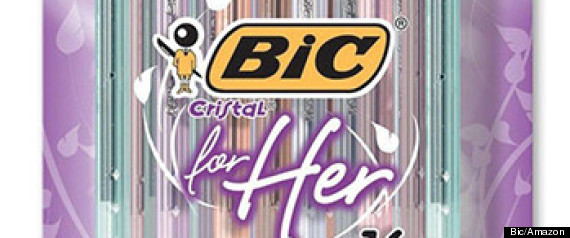 (3 votes, average: 4.33 out of 5)

Loading...
The "Bic Cristal for Her" is a good example of how gender can be reinforced through consumption and advertising.  Here a generic item–a pen–has been marked with gender through its name ("for her"), packaging (are those flowers along the edge?), and advertising. As this article about the pen notes, some retailers claim the pens "are reserved for women and feature a diamond-engraved barrel for an elegant, unique feminine style. The tinted, hexagonal barrel is thinner for better handling for women and still keeps the ink supply visible."  
The absurdity of such claims were called out by consumers in their product reviews.  For example, comments on the Amazon web site have been used as a simple form of protest and resistance, mocking the manufacturer of the needlessly gendered product.  One person wrote, ""Finally! For years I've had to rely on pencils, or at worst, a twig and some drops of my feminine blood to write down recipes (the only thing a lady should be writing ever)," the reviewer wrote. "I had despaired of ever being able to write down […]recipes in a permanent manner, though my men-folk assured me that I "shouldn't worry yer pretty little head". But, AT LAST! Bic, the great liberator, has released a womanly pen that my gentle baby hands can use without fear of unlady-like callouses and bruises. Thank you, Bic!"
The tone-deaf advertising and the resistance to it are a good example of how gender continues to be contested.