"Let us consider an augmented architect at work. He sits at a working station that has a visual display screen some three feet on a side; this is his working surface, and is controlled by a computer (his "clerk" ) with which he can communicate by means of a small keyboard and various other devices."
"In such a future working relationship between human problem-solver and computer 'clerk,' the capability of the computer for executing mathematical processes would be used whenever it was needed. However, the computer has many other capabilities for manipulating and displaying information that can be of significant benefit to the human in nonmathematical processes of planning, organizing, studying, etc. Every person who does his thinking with symbolized concepts (whether in the form of the English language, pictographs, formal logic, or mathematics) should be able to benefit significantly."
This is my favorite view for how technology should grow to help us. I think this is in part due to how many television shows saturated my mind with the human problem solver having a working relationship with any non human thing. My second concept experience was about the power rangers ad I mentioned they were given powers of prehistoric animals. What I did not explain is those prehistoric animals could be summoned in a robot form, called zords, to augment their own power.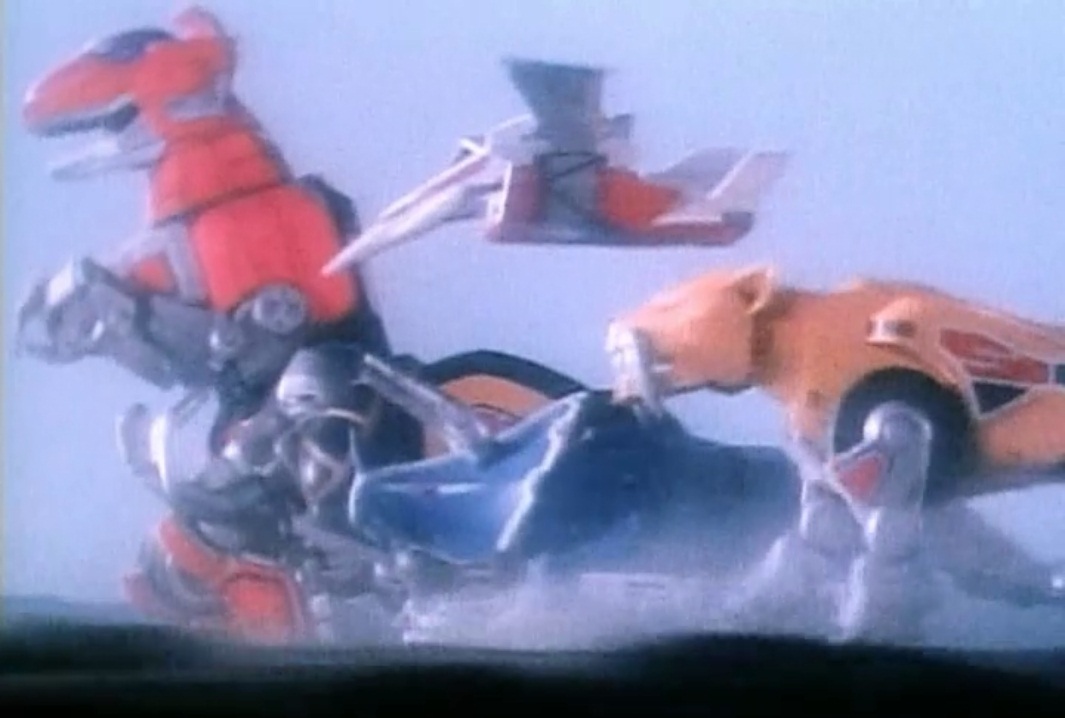 And when that wasn't enough power, they could make their five zords combine into the megazord, where each of the five power rangers controlling and problem-solving issues for a certain portion (right leg, left leg, right arm, left arm, and the head & chest). The machine was infinitely more powerful than the humans, even with super powers, but the strength could only be used if the human was problem-solving and controlling it.
Another show that comes to mind is Digimon. The name itself is short for digital monsters, and the premise was a group of humans were taken to the digital world, where they had a digimon partner. The partner would get stronger, and access new levels of possible transformations as his human partner learned more about them and became better at utilizing their partners unique skills. A prophecy foretold of a group of humans and their digimon partners being the only one's who could save the digital world and our world from destruction due to impending evil.
Even in this example, the digimon were the 'clerks' explaining the issues, and doing the work humans could not do. In Augmenting Human Intellect, it was calculations, creating virtual graphs, etc. In Digimon, it was fighting other digital monsters who all had unique attacks and abilities. However, the consistent part among the two concepts is that it was up to the human problem solver to analyze the data and figure out the best solution.
I could name tons of other shows with similar premises but the point I want to drive home is that technology is already augmenting our intellect. In Anisa's blog she asked whether we should figure out what intelligence is, focus on the augmentation of intellect, or should we even focus on the subjects at all. I think going with the flow is what has gotten us to this point in the first place. With minds pushing to find the extent of their expertise, we accidentally find something that can be utilized in a way that augments our intellect. I believe the television shows provide an over-the-top version of what already exist. Business meetings are full of presentations that outline specific points in a plethora of ways such as text, charts, even virtual replications, and architects use virtual blueprints and simulators to increase their understanding of the tasks ahead of them. So I think we should just keep doing what we are doing, because if it isn't broken, why try to fix it. These means of augmenting have not reached the level Engelbart describes yet, but with the invention of Google glasses, I don't think we are far off.