In prior posts, I've discussed the significance of the title of my blog: "The medium is the message." Our communication (message) is influenced by the method in which we communicate (medium). For example, when two people interact in person, then there is a two way conversation where both participate. However, most media tend to be a one-way conversation from a content producer to its consumer, such as books, newspapers, magazines, television, and movies. The Internet transforms this prior paradigm because it allows for one-way (the traditional media available online), two-way (email), and free for all discussions (chat rooms and discussion boards). This also is similar to Karlsen's (2015) concept of opinion leaders influencing others within their networks. So, we've established that the medium has changed. How has the message changed?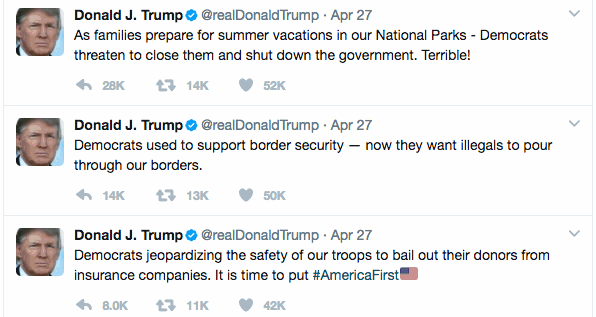 One example is political messages through Twitter: the infamous example of President Donald Trump. His words become news all over the world from the traditional news media, social media, and blogsphere. Penney (2016) establishes the popularity of political messages on social media and examines their potential influence on the electorate. He argues that political campaigns have become similar to marketing campaigns in an attempt to persuade voters and establish a candidate's brand.
What are the effects of the presidential tweets? An earlier article by Fuchs (2012) casts some doubt on the effects of social media. He states that the traditional media seems prone to exaggeration  that social media brings together "mobs" and this has created discussion around the technological effects of social media, which distracts from greater societal issues (why that "mob" formed in the first place due to inequity and inequality). However, Fuchs might be very relevant here. Trump's tweets may distract from modern social problems and larger political issues. While the news media and politicians focused on "the wall," what other political issues did not get attention? In addition, does quantity make up for quality if repeated tweets continue to gather attention?
I'll admit that I feel a bit old because I remember the days when the  political commentators discussed the week's events on television on Sundays. However, this sphere has expanded and anyone might gather enough followers to be an online opinion leader, although the most popular examples often have successful writing backgrounds too (such as Ariana Huffington or Ann Coulter).