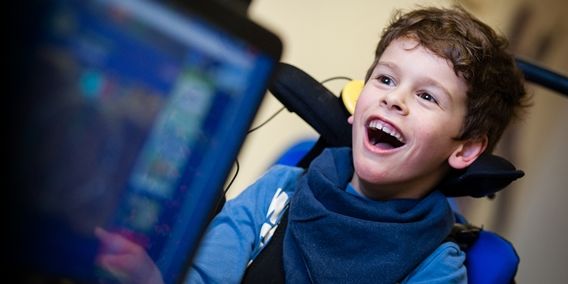 Living with disabilities is a very difficult task for an individual to live with for the length of their life. Young children with physical disabilities is sad sight to see, because children are supposed to be running around, enjoying tag or hide-and-seek with other children. These physical disabilities don't allow the affected children to not have the vital physical activity that they need in order to avoid health issues later in life. The scope of what video games can be applied to has increased significantly with integrating educational games to promote fun learning activities to using minecraft to allow young middle schoolers to build historical locations around the world, so why can't it be feasible to use video games to help disabled children increase physical activity. I will use the studies conducted by Rowland, Jennifer L that touches on the "Perspectives on Active Video Gaming as a New Frontier in Accessible Physical Activity for Youth With Physical Disabilities" and Gilbert, Richard L on "Psychological Benefits of Participation in Three-dimensional Virtual Worlds for Individuals with Real-world Disabilities".
*"Conceptual model of active video gaming for youth with physical disabilities. RERC RecTechRehabilitation Engineering Research Center on Interactive Exercise Technologies and Exercise Physiology for People With Disabilities."(Rowland, Jennifer L) .*
The study concluded that by creating environments that promote an safe area that youth with disabilities can participate without any type of exclusion. The Rec-tech Rehabilitation Engineering Research Center crate various activities and made controllers that are suited for kids with disabilities such as cerebral palsy was vital to allowing them to play with little difficulty. The study highlighted that there are significant barriers that would continue inhabit these disabled children to be included and made it apparent that these barriers must be tackled.
The second study wanted to use a virtual reality game called Second life to monitor the mental state of participants that have disabilities while they transition between real-life interactions and interactions on Second life. They watch for mental states such as "(depression, anxiety, positive emotion, life satisfaction, and feelings of loneliness) and self-evaluation (self-esteem)"(Richard L. Gilbert, pg.1) to evaluate their improvements. There are 61 participants of various demographics and around the mean age of 35 in the post-test, while there was over 196 participants of the pre-test which is the baseline for the study. The beginning of the study show that many of the participants were very weighed down by the burden of their disabilities, but show a major changed at the end. " (As an example, one participant received a Time 1 score of 35 and a Time 2 score of 26 on the UCLA Loneliness Scale. The participant's difference score was nine, indicating a drop in levels of loneliness from Time 1 to Time 2." this statistic was an as example of how being immersed into a social and open environment(a virtual environment) has had a major effective on someone who suffered from loneliness and went through a " a percent change score of 25.71″ which indicates that this study gives positive results that show that video games can serve a purpose beyond just entertainment.
article 1: http://proxy.library.vcu.edu/login?url=http://search.ebscohost.com/login.aspx?direct=true&AuthType=ip,url,cookie,uid&db=a9h&AN=114179363&site=ehost-live&scope=site
Rowland, Jennifer L., et al. "Perspectives On Active Video Gaming As A New Frontier In Accessible Physical Activity For Youth With Physical Disabilities." Physical Therapy 96.4 (2016): 521-532. Academic Search Complete. Web. 17 Apr. 2016.
Article 2: http://proxy.library.vcu.edu/login?url=http://search.ebscohost.com/login.aspx?direct=true&AuthType=ip,url,cookie,uid&db=a9h&AN=89431962&site=ehost-live&scope=site
Gilbert, Richard L., et al. "Psychological Benefits Of Participation In Three-Dimensional Virtual Worlds For Individuals With Real-World Disabilities." International Journal Of Disability, Development & Education 60.3 (2013): 208-224. Academic Search Complete. Web. 17 Apr. 2016.
kid picture-http://cdn.idntimes.com/content-images/post/20151201/tech-specialeffect-org-uk-dfe0abdf4fe7ba83c633151bdc2b9dfc.jpg
Picture of the graph-http://proxy.library.vcu.edu/login?url=http://search.ebscohost.com/login.aspx?direct=true&AuthType=ip,url,cookie,uid&db=a9h&AN=114179363&site=ehost-live&scope=site