Call me swede-ie!
---
Health Benefits:
Extremely high in antioxidants and phytonutrients that help fight against cancer
Contains over 50% of your daily recommended vitamin C
Rich in potassium and manganese, which provides energy
Good source of zinc, a mineral that aids in the function of many enzymes
---
Macronutrients: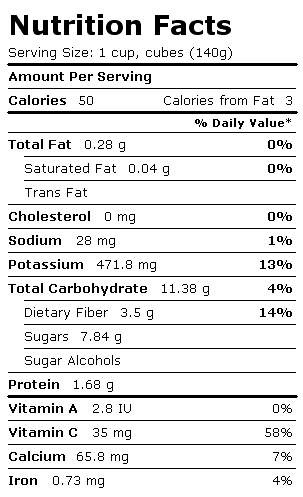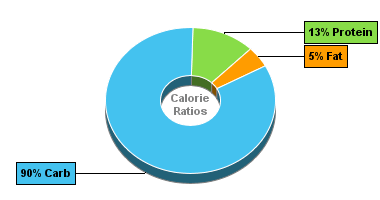 ---
Micronutrients:
Calcium: 66 mg
Iron: 0.73 mg
Magnesium: 32 mg
Phosphorus: 81 mg
Potassium: 472 mg
Sodium: 28 mg
Zinc: 0.48 mg
Vitamin C: 35.0 mg
Thiamine: 0.126 mg
Riboflavin: 0.056 mg
Niacin: 0.980 mg
Pantothenic Acid: 0.224 mg
Vitamin B6: 0.140 mg
Vitamin B12: 0 mcg
Folate: 29 mcg
Vitamin A: 3 IU
Vitamin E: 0.42 mg
Vitamin K: 0.4 mcg
Phytonutrients:
beta Carotene: 1 mcg
beta Cryptoxanthin: 0 mcg
Lycopene: 0 mcg
Lutein and Zeaxanthin: 0 mcg


---
In the Garden:
Ideally, rutabagas should should be harvested in Autumn when they are poking out of the ground, as seen above. They should be 3-5 inches wide, or approximately the size of a grapefruit.
If not ready for harvest, they can be left in the ground. Cover them with mulch so they do not freeze and harvest them in the spring.
---
Pepare and Enjoy:
Begin by cutting the rutabaga in half, then slicing those halves into half inch slabs. Peel the outer skin off of the sections with a knife and discard the skin and tops and bottom of the root.
Many people enjoy Mashed Rutabaga
Dice the sliced and peeled rutabaga into cubes
Add these cubes to a pot, adding water so that the cubes are completely covered.
Let the water boil, then lower to a simmer for 40-50 minutes or until tender.
Drain the water, then mash the vegetable with a potato masher. Add 2-3 tbsp butter and season with salt and pepper.
Serve hot as a side
Sources:
Health Benefits: http://foodfacts.mercola.com/rutabaga.html
Health Benefits and Photo:  http://healthyeating.sfgate.com/benefits-rutabagas-4398.html
Macronutrients: http://quitehealthy.com/nutrition-facts/food-labels/label114351.gif
Micronutrients: http://nutrition.about.com/od/fruitsandvegetables/p/Rutabagas.htm
Growing and photo: http://bonnieplants.com/growing/growing-rutabagas/
Cooking and photos: http://www.irishamericanmom.com/wp-content/uploads/2012/11/IMG_0340.jpg