The gif pretty much says it all.
Over 70 countries came to RVA to compete in a race I've never heard of before. I'm not into cycling, but after seeing these men and women bike around the streets I've walked on for the past few years, I've gained a new respect for the cyclists.
For most people it was known as "bike week", but for me, it was my first internship. I spent five days with one camera, a tripod, three batteries, a battery charger and a lav mic set. I was ready to take on the world (yes, the pun was very much intended.)

I was on a team with Ben and Angie (both in our class.) Angie and I were photography and videography and for the first few days we met bright and early in the morning around 9 AM at the Robert E. Lee statue and let me tell ya with all my equipment, it wasn't easy on my legs or my back. Saturday and Sunday were pretty basic, easy days. We were told to get interviews with fans, grab fan reactions, tweet, get really sick shots of the cyclists and then head back to the editing bay and send our stuff out to our editor. It was so helpful to have another person to work with. In my opinion, it worked out great. We had the same mind set on how our day should be planned to get all the necessary shots.
One thing we did learn together was the police who were patrolling the course site were uber strict. We tried to cross the road when the race was completely over on Sunday but they refused to let us cross (no one was coming.) On Monday, Angie was trying to take pictures on the Robert E. Lee bridge but the police officer told her she couldn't and wouldn't let us one step closer than we already were. Angie and I couldn't help but exchange this glance many times during the week.
My experience wasn't all easy peasy. Sometimes I was told to get better fan reactions – and it was hard to find people from out of the country let alone the city and get an interesting soundbite.
But before I could get into panic mode, I was given a different assignment by my RTD editor, which brings me to my favorite day of my internship: Tuesday.
I was given a different task after covering the cyclist portion for three days. One of my editors had written a story on RVA's restaurants seeing sales decline during the bike race and she wanted me to create video to go along with it. I went around to three different restaurant/food businesses and made a package I'm really proud of. Turns out businesses were suffering (and RTD got the scoop first!)
(I like to think a lot of people saw my package and went to the restaurants and so the purpose of this image is I'm Aladdin and the businesses are the little children.)
FUN FACT ALERT: Wednesday was my last day and it was HECTIC. I was told to get all these shots of these popular cyclists crossing the finish line. I found a spot about 50 feet from the finish line and there was absolutely no way to fit my tripod into the space… so I put the camera on my head and tilted the LED screen down so I could see what I was shooting. I probably looked like a knucklehead, but looking back on it, I think it's hilarious. Also, this guy in front of me was waving some country's flag and it was really hard to get footage without the flag taking up most of the screen, but it's one of my favorite memories from the race.
In short, I started the week like this :
But after four more days I felt like this :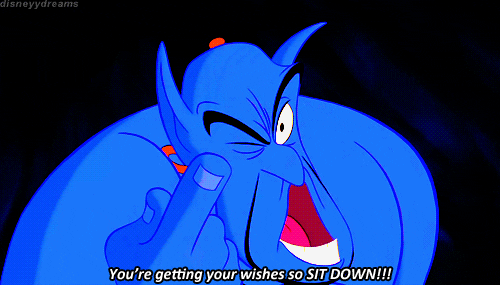 (okay, maybe that is a bit too extreme haha.)
Although Bike Week was riveting, I was really happy to have a break before school started again.
Overall, I was really excited but nervous about the bike race because I knew little about the subject and I'd never had an internship before. Working an eight hour shift to produce something that would be on the internet forever felt like a good glimpse into my future. I'm really honored I was chosen and look forward to other opportunities like this.

STORIFY (because for some reason, my storify post won't correlate with the rest of the posts.) ::::::::::: http://rampages.us/samfeduci/2015/10/08/wheely-cool-bike-race/