Passion Fruit
Did you know, passion fruit helps with UTI's, anxiety, insomnia, and asthma. Some studies suggest that it also helps with chronic inflammation
Passion Fruit  has a minimum of 13 different carotenoids.  Some of the carotenoids include zeta-, beta- and alpha-carotene, b-cryptoxanthin and lycopen.  Carotenoids are fat soluble, so eating passion fruit will help with the absorption of vitamin A.
Other Health Benefits
Vitamin C and A
Potassium
RIch Sourch of Noheme- plant based iron
Good Source of minerals Copper, Magnesium and Phosphorous
Flavonoid antioxidant–β-carotene and cryptoxanthin-β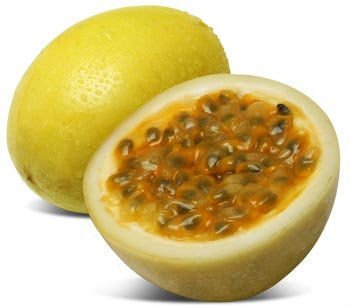 Macronutrient
Micronutrient
Picking
Passion Fruit is available year around in the U.S. but in places like New Zealand it is available seasonal; season begins January and peaks in April.  Buy well ripe plump and heavy fruit with wrinkle surfaces.  Wrinkle surfaces means the fruit is sweet.  Avoid overly ripe fruit with scrapes and spots.
Preparation
Wash the fruit and cold water and pat it dry.  Cut the fruit in halves and scoop out fruit with spoon.  Discard the hard inedible shell.
Brazilian Passion Fruit Mousse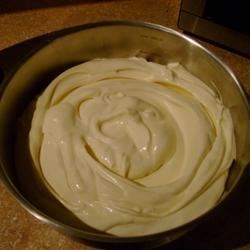 Ingredients:
8 passion fruits
1 tablespoon of white sugar
1 (14 ounce) can sweetened condensed milk
2 cups of cream
Directions:
Break passion fruits in half, and empty contents into a bowl. Use a little water to help rinse the juice out of the skins. Mix with hands to soften pulp. Strain through a sieve or cheesecloth. Stir in sugar and sweetened condensed milk.

In a chilled bowl, beat cream until stiff peaks form. Fold 1/3 of the cream into the passion fruit mixture, then quickly fold in remaining cream until no streaks remain. Refrigerate for 1 hour.
Sources:
First Image: http://www.annmariegianni.com/wp-content/uploads/2013/03/Passion-Fruit-OIl.jpg
Health Source and ad fact: http://www.antioxidant-fruits.com/passion-fruit.html
Health Source: http://protein.healthfoodxdrinks.com/passion-fruit-nutritional-benefits/
Second Image: http://img.21food.com/20110609/product/1305625521218.jpg
Macronutrient and Micronutrient Facts: http://nutritiondata.self.com/facts/fruits-and-fruit-juices/1987/2
Picking and Preparation : http://www.nutrition-and-you.com/passion-fruit.html
Third Image: http://ideas.homelife.com.au/media/articles/5/3/0/5389-1_l.jpg?165617
Recipe and picture: http://allrecipes.com/recipe/brazilian-passion-fruit-mousse-maracuja/