The ocean is blue
22:31
Why is the ocean blue? (Because fish goes "blue blue blue")
First of all, the reason why ocean is blue is depends on the absorption of sunlight. " In water, absorption is strong in the red and weak in the blue, thus red light is absorbed quickly in the ocean leaving blue." (http://science.nasa.gov/earth-science/oceanography/living-ocean/ocean-color/)
I feel like I worked the same way as the last Wikipedia activity. Computer has endless knowledge, but I am controlling the computer by knowing what I should research. It's like the same process when we were working on the Wikipedia. I look for something interested me then question what it is. I wouldn't usually question something if I already had answer for it.
I came up some random "leaps" such as radiation and neuropathic. These "leaps" actually have nothing to do with my statement. I just found that it might be interesting to know about it. Honestly, i feel like I am restricted by doing this assignment. I was just going through a process which require me to read then come up with a question about what i just read. The process just like a repetition. I wouldn't prefer to do my research paper in this way because it distracts me. It leads me to a totally different area of knowledge. Yes, I learned stuff from reading all the answers to my questions, but on the other hand, I was reading something which is not the answer to my original question. I figured out a better way to do research by having sub-questions at the beginning and looking for different answers to those sub-questions which answer the main topic. I'm not sure if it's because that I'm not fully understand the propose of this activity or I'm just not a formative researcher. So at the end, I decided to come up a different question which is not associated with the last reading. I think the last question I had was more meaningful compare to the first question which came from the "obvious" statement, but it still kind of relates to the "obvious" statement.
I thought a lot after I finished the activity. I think sometimes it depends on how the researcher research. If I keep questioning questions which relates to the "obvious" statement. I might not had those "leaps" and being distracted. Computer is just a tool. We need to know how to use it in a better way.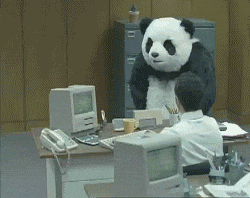 (Just for fun. This angry panda is me when I don't work well with the computer.)